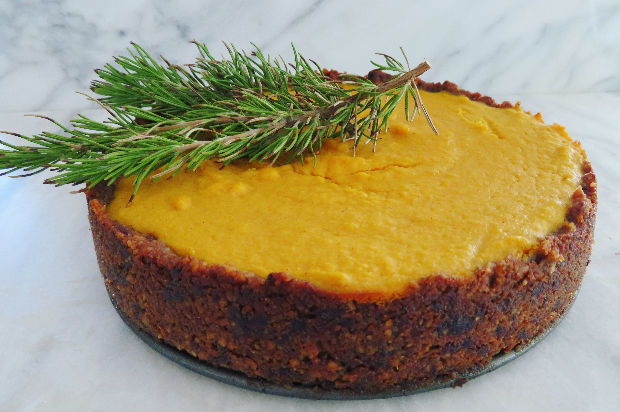 Spiel
Because it tastes like the sunshine.
Your guests do not want to look at their watches waiting for the right moment to make a polite exit so they can go home and sleep away the culinary burden of the night. Lighten up the load. Add sunshine.
A little labor intensive to use fresh pumpkins, but honestly how many times a year are you making this?
I would recommend asking friends/family/dudes with some muscle who are looking to feel useful to join in for a few minutes of pumpkin cutting to make the process quick and fun. The crust on the other hand takes only minutes.
Filled with mother-earth love, especially if you go organic.
*The filling is adapted from Lisa Raven's book In Season.
MORE RECIPIES OF THIS TYPE: cuisine, desserts, gluten-free, recipes
Meal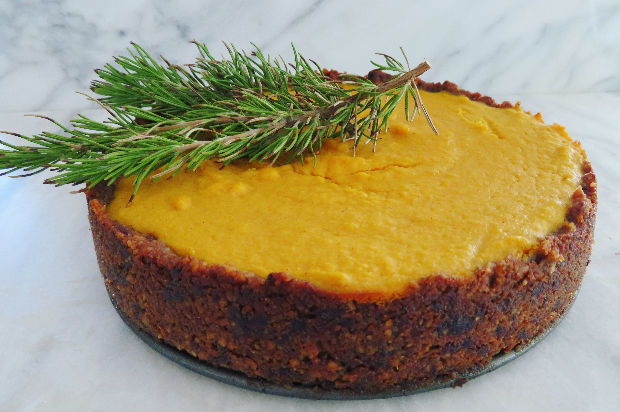 Ingredients:
Vigor Trigger: Click the pink for health benefits!
For Crust:
For Filling:
---
Directions:
For Crust:
Place the pecans, dates and 7 tablespoons of butter in a food processor and pulse into paste.
Use the remaining butter to amply grease tart pan.
Use your fingers to "smush" the paste into the tart pan to form the crust. You might have a little extra.
For Filling:
Cut pumpkins into wedges. Lay wedges on side and slice off skin working your way around the pumpkin.
Steam pumpkin in a steamer for about 15 or 20 minutes.
Add pumpkin to food processor and reduce to a purée.
You will need about 3 cups of puréed pumpkin. If you feel you have much more, measure it out and return pumpkin to food processor.
Add lemon zest, lemon juice, orange zest, orange juice, cinnamon, ginger, nutmeg, honey and eggs. Pulse into well mixed.
Pour mixture into pie crust.
Bake at 350°F for 30 minutes.
Cover Pie Crust: Take out of oven and use tin foil to cover the the crust that is showing as to prevent it from burning. Just go ahead and place two large sheets of aluminum foil on top of each other like a plus sign and fold over until desired effect.
Bake for another 20 minutes or until firm to the touch.
Let cool to room temperature before serving.
Note for the more advanced students: If you would like, it is possible to make the pie in a 9″ springform pan to resemble the photo. Apply crust "dough" on bottom and sides of the buttered springform, pour in filling and bake. Let cool completely. Remove outer piece but leave pie on the bottom disk…this pie is too fragile to remove. Put on a cake plate and serve.