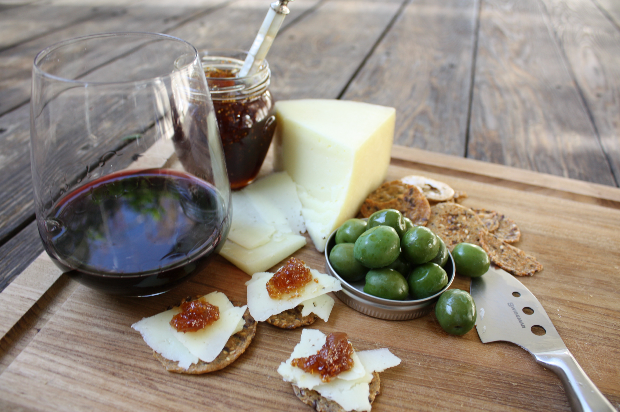 Spiel
You don't need to cook in order to feed your guests. Just choose the best quality items for a simple, yet fantastic, cheese plate.
Fyi, you only need to serve one type of cheese…if it is good, no one will be less happy. They will be thrilled that you chose a great one and that they get to eat it. Trust me.
WHAT YOU NEED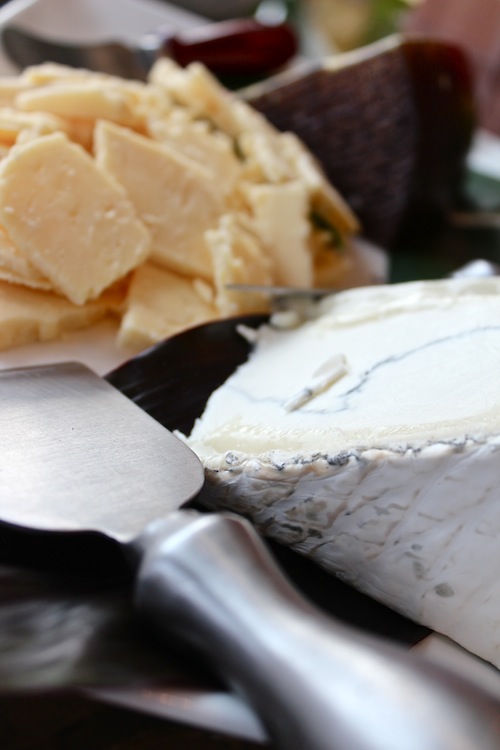 Wood chopping block to put cheeses and jam on…and crackers and olives too if you can fit. The more knotted and rustic looking the better. But even if its just a plain old wood cutting board as I often use, it will look glamorously delicious once we get it all decorated with food!
Cheese: my favorites are always made from goat or sheep's milk cheese but I have a few from cow milk that I also love for a cheese plate. You can always ask "the cheese guy" for a taste at any decent gourmet market.

Manchego (my go-to) – Sheep
Any Italian Sheep's Milk Cheese, except Pecorino Romano – you want a touch less aged, i.e. softer…not super soft…but soft-er than Romano. If you don't know what I'm talking about, let it be. – Sheep
Humboldt Fog – Goat
Naked Goat – Goat
Drunken Goat – Goat
Boucheron – Goat
Feta – Sheep's Milk is my first choice or Cow's Milk Feta
Sharp WHITE Cheddar (don't ever buy orange cheddar and double don't ever put it on a cheese plate! Milk is not orange!) – Cow
Fig Jam: (available at Whole Foods or other specialty shops) If you can't find fig jam, use another high quality jam that you would never have put on a PB and J as a kid. You don't want strawberry cheese…just a hint of sweet fruit with your cheese.
Raw Honey*: if you can't find fig jam or if you prefer. Raw honey will support the flavor of the cheese…regular honey will ruin it.
Olives: from an olive bar at a specialty market (canned olives are cheap and taste cheap.) Put a little dish on the side for the pits!
Crackers: there are many crackers that will go well, but far many more that won't. Don't use Ritz or any cracker you liked as a child. Look for a crispy, thin and rustic tasting cracker. My favorite: Mary's Gone Crackers – Herb Flavor*
Wine: Go for a Chianti, Montepulciano D'Abruzzo, a Nebbiolo on a winter night, a Prosecco for a dry bubbly in summer or winter or a Sauvignon Blanc for a crisp nuanced white. Try D-Cantor Wines for online ordering of great wines at reasonable prices. Enter "elana" for free shipping under promotion code.
*You can buy these products online here.
MORE RECIPIES OF THIS TYPE: appetizers, gluten-free, recipes, stuff even a shlemazel can make