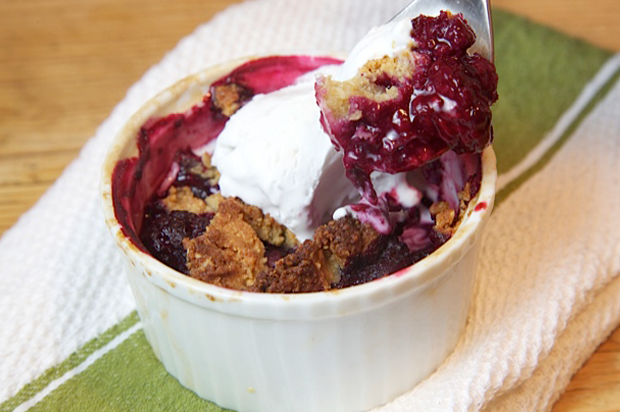 Spiel
This is my go to dessert. It has become famous amongst my circle of friends, my students and their circles of friends. We love it because it is so easy to make, it is healthy, it's not too sweet or filling, and makes a perfect end to a dinner party or potluck.
Put it in the oven during appetizers or the first course and by the time you're done with dinner and have had a moment to digest with a little conversation – dessert is ready! Bring it uncooked to your friends homes and stick in their oven when you get there. Everyone will be thrilled.
As far as guiltless, I am referring to…
one: There is no sugar added to the fruit and I only use 1 squeeze of agave for the whole cobbler, which serves sometimes 10-15 people. (Check out other cobbler recipes and you will see CUPS of sugar.)
two: There is no white flour, which is a rampantly overused product that has no nutritional value and just sticks to your insides for life until you are fat, tired and old.
three: The dough topping is made of oats and oat bran which are high in fiber and almond meal which is high in protein.
four: Yes, there is butter but I encourage you to read more about butter. It has numerous health benefits. If you fry food in butter and cook everything always in butter, well it's probably not good for you unless of course you're French. Otherwise using butter in a healthy dessert  or putting some on a freshly baked sweet potato might actually do you some good. At least that's my spiel: I believe in butter. If however you still don't, feel free to substitute this recipe with extra virgin coconut oil.
That said, no matter the goodness of the ingredients, if you eat the whole thing in one sitting and find your muffin top a little swollen, well my folks, don't come chasing me for a lawsuit.
MORE RECIPIES OF THIS TYPE: desserts, gluten-free, recipes, tricks for chicks
Meal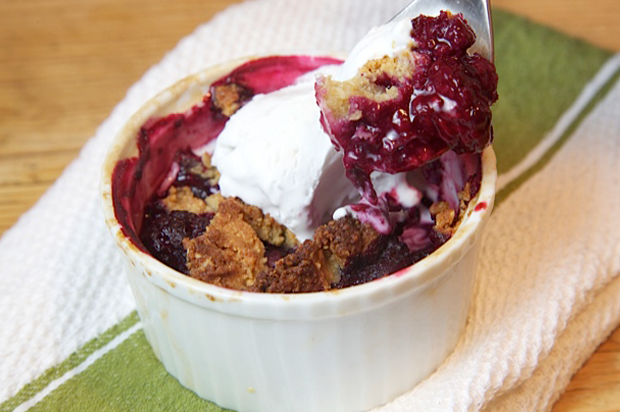 Ingredients:
Vigor Trigger: Click the pink for health benefits!
You will need: an 8×11" glass or ceramic baking dish or about 8 ceramic ramekins. You can't really mess this up.
For Fruit:
You can choose which berries you like…sometimes I just to strawberries and blackberries, other times  strawberries and raspberries. Sometimes all of them. You can't mess this up.
For Topping:
3/4 cup oats
3/4 cup almond meal*
3/4 cup barley flour*
2 generous tablespoons oat bran 
1 stick cold salted butter, cut into 6 or 7 pieces
1 big squeeze or about 1/3 cup raw agave*
a la mode: my favorite: Luna and Larry's Organic Coconut Bliss Ice Cream (dairy-free)
For a Gluten Free Topping:
3/4 cup gluten-free oats*
3/4 cup almond meal*
3/4 cup gluten-free oat flour*
1 stick cold salted butter, cut into 6 or 7 pieces
1 big squeeze or about 1/3 cup raw agave*
a la mode: my favorite: Luna and Larry's Organic Coconut Bliss Ice Cream (dairy-free)
For a Three Seed Breakfast Cobbler:
Add a small handful each of chia, pumpkin and sunflower seeds to the mix. If you are using a food processor to mix the topping, add the seeds by hand afterwards, and mix until incorporated.
Directions:
Preheat oven to 350°F.
Wash and dry berries.
Place fruit in bottom of baking dish, un-greased.
Either mix all of the topping ingredients together in a bowl with your hands OR In a food processor place all the dry ingredients and the butter and pulse until well integrated. Add the agave and pulse again until it rolls itself into a sticky ball. (If you don't have a food processor, go old-fashioned: put it all in a bowl and get your hands in there to  squeeze and mix.)
Using your fingers, take the "dough" bit by bit and place on top of the fruit. You are not looking for a flat, fully covered crust. It's good if there are "holes" where the juices of the fruit will bubble through, letting you know when its done.
Place in oven uncovered and bake for 40-45 minutes until lightly brown on top and the fruit looks as if it has gotten syrupy and bubbly.
Let rest for a minute. Serve with Coconut Bliss or another ice-cream. Enjoy.