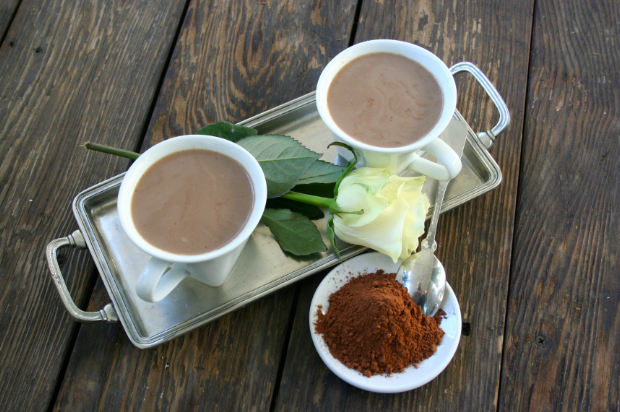 Spiel
I'm going to keep this spiel short.
Here are the facts: If you heat up your favorite unsweetened non-dairy milk and put excellent good quality 100% cocoa powder in it and sweeten it with stevia or agave, it's delicious. That's all you need to know.
Never feel guilty about hot chocolate again.
MORE RECIPIES OF THIS TYPE: chocolate, desserts, Elixers & Lattes, recipes
Meal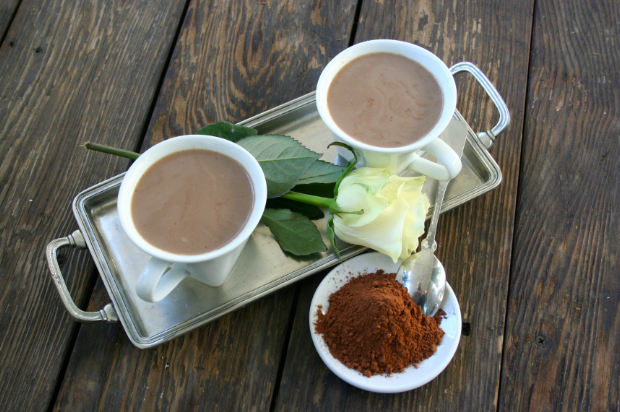 Ingredients:
Vigor Trigger: Click the pink for health benefits!
your favorite non-dairy milk – generous 1 cup per person
quality 100% unsweetened chocolate powder such as Green and Blacks, Valrhona*, or Ghirardelli- about a tablespoon per serving
stevia drops (clear variety)- a few drops to taste
If you don't like stevia, try raw agave* to taste, but will no longer be sugar free
Directions:
Heat the non-dairy milk and chocolate powder over a medium-low/medium flame, covered, until it just begins to boil…about ten minutes.
Add stevia drops or agave and stir.
Taste, you can always make it richer in chocolate or sweeter.
Enjoy and share a cup with someone who loves chocolate.