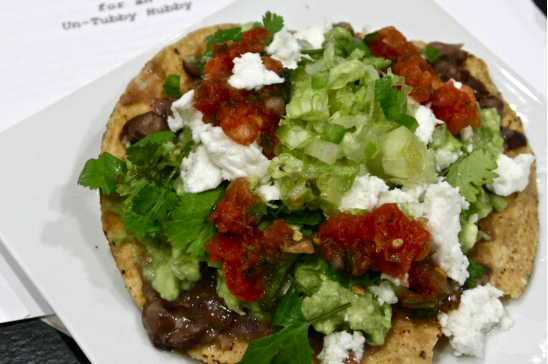 Spiel
Tlayudas (mistakenly spelled clayudas) are often described as the Mexican pizza of Oaxaca. To me, personally, the idea of a Mexican Pizza is gross. Pizza is Italian, Mexican is Mexican.
Just imagine a crispy tortilla topped with black bean puree, guacamole, salsa, crumbled cheese, shredded lettuce and cilantro. To me its a crispy open faced taco of sorts. I headlined Tlayudas in my Dude Food Class entitled Recipes for an Un-Tubby Hubby because this is what guys like to eat. I know this because amazing-but-too-young-to-marry Michael Blumenthal barely looked at his favorite chicken that I made for his birthday (now known as Mike's Chicken), after scarfing down close to 10 tlayudas. Shoot, if I had known that sooner I might have had a lot more luck with guys in my life. I might not have been dumped by Todd Shtickinthemud (fictionalized name). I might even be married. I might even be on a second marriage!
So now I pass the trick of tlayudas on to you. Please use it only to seduce worthy men in worthy ways.
MORE RECIPIES OF THIS TYPE: appetizers, dude food, mains, recipes
Meal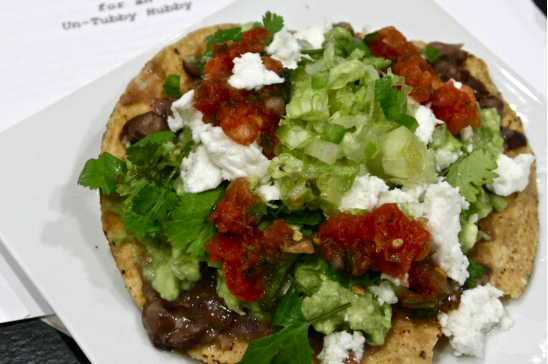 Ingredients:
Vigor Trigger: Click the pink for health benefits!
1 bag of Tostadas Caseras (crisp round tortillas available at Mexican markets and some supermarkets) or small fresh corn tortillas
1 recipe Un-Fried Coconut Black Beans
1 recipe Elana's Simple Guacamole or store bought guacamole
½ pint fresh tomato salsa – to your spiciness liking
2 oz. queso fresco or farmer's cheese, crumbled- optional
1 head romaine lettuce, sliced thin across stems into strips- optional
cilantro leaves roughly chopped or left whole- optional
Directions:
If you are using Tostadas Caseras, you can skip this step. To crisp tostadas/tortillas, heat oven to 375°F and lay them in a single layer directly on oven rack. Bake for about 7 minutes or until crisp. Remove.
Spread warmed Un-Fried Coconut Black Beans thinly on tostada/tortilla.*
Gently add a small dollop of guacamole.
Sprinkle some salsa on top.
Sprinkle some romaine.
Sprinkle cheese to your liking.
Sprinkle cilantro.
Eat!!! Even better with my Skinny Margarita.
*If you want your tlayudas to be extra warm, after putting on black beans place on baking sheet in oven at 400°F for 5 minutes or so. Then continue with assembly.
Note: Sometimes for fun I leave all the ingredients out and have guests assemble their own.