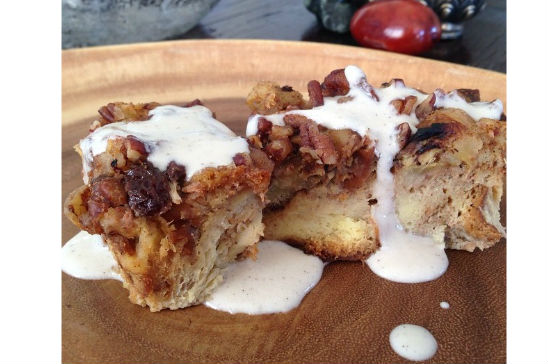 Spiel
As you may already know, my definition of good food is that which makes you want to roll on the floor and shout mammmmmmaaaaa! And as you also may know, I'm not actually referring to my mother, as she never cooked, but to the Italian mamme who fed me while I lived in Italy.
I learned in Italy that it's not how food tastes, it's how food makes us feel that counts.  While this bread pudding tastes like the perfect, not-too-sweet harmony between the rich eggy challah, the vanilla-and-cinnamon-spiked coconut milk, and a touch of Tuscan dessert wine, it feels like a love too pure for words to express.
In fact, when I sat my father down for a piece and witnessed his face soften with the first bite, I threw my arms around him enthusiastically and asked, "Dad, doesn't this taste like your childhood?"
"Yes," he responded, wide-eyed. "Like the childhood I never had."
I saddened, but the truth is I never had a childhood that tasted like this bread pudding either. I'm not sure if anyone has. It's not always easy to be a child, tossed around the world of cynicism and ego,  and yet we associate the innocence of childhood with a full heart.  How else can we touch that intimate and intangible place inside of us except with food? This Challah Bread Pudding is as close as I have come.
Enjoy and share with someone you love.
P.S. I purposely made this Challah Bread Pudding not too sweet so you can taste the subtlety of the flavors and not just the sugar. I recommend it for an afternoon tea, brunch or a dessert after a light, low-carb meal.
P.P.S. You can cut the recipe in half for a smaller portion.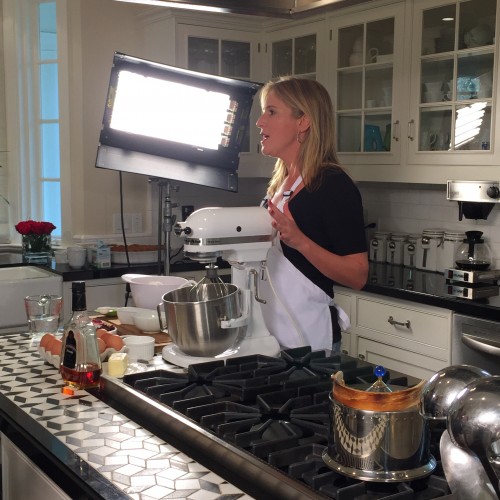 Visit Salted to watch my cooking demo of Coconut Milk Bread Pudding on demand!
MORE RECIPIES OF THIS TYPE: Breakfast & Brunch, desserts, jewish, recipes
Meal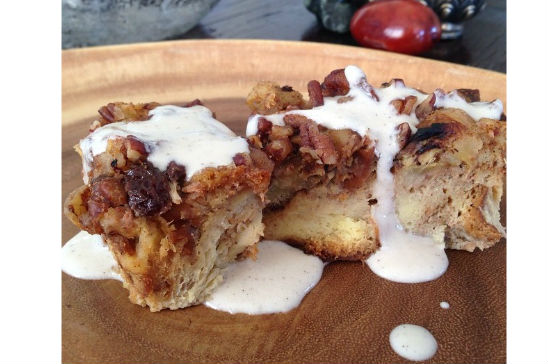 For the Bread Pudding
Ingredients:
Vigor Trigger: Click the pink for health benefits!
6 cups of day old raisin challah, cut into 1 inch cubes (about 1 challah)
3 cups coconut milk (from the carton, not the can)
6 eggs
1 teaspoon of vanilla powder or 2 teaspoons of high quality vanilla extract
½ cup of Vin Santo
2-4 tablespoon of honey (see note)
1 tablespoon of cinnamon
optional topping:

1.5 handfuls of chopped pecans mixed with 1 tablespoon of coconut oil
if you aren't using a raisin challah or just like more raisins add a handful of raisins
Directions:
Preheat the oven to 350.
Place the cubed challah in an 8×8 baking pan. If you are opting to use extra raisins, toss them with the bread.
Whisk eggs, coconut milk, vanilla, Vin Santo, honey, and cinnamon together in a bowl until well mixed.
Pour the egg mixture over the challah bread.  Mush the bread down with your hands so that the bread is flooded with the egg mixture. Let sit for a good ten minutes. (If the custard mixture doesn't all fit at once, let the bread soak some in and then add more.)
If you are adding the pecan topping, sprinkle it over the bread and egg mixture now.
Place the 8×8 pan in a larger casserole and fill the outer pan with hot water until it is at the halfway mark of the inner pan.
Bake for 50 minutes-60 minutes until set.
Note: if your challah is already on the sweeter side, like my recipe is, err on the side of using less honey. If you prefer a sweeter flavor, you can opt for more honey.  This recipe is not a super sweet recipe; is out to create a bread pudding that accentuates the bread itself, and not the sugar.
For the Coconut Cream Sauce
Ingredients:
Vigor Trigger: Click the pink for health benefits!
1 can of coconut cream
¾ cup of coconut milk (from the carton, not the can)
3 tablespoons of Vin Santo
2-3 tablespoons of raw honey
1 tablespoon rose water
¼ teaspoon of vanilla powder or 1 teaspoon of vanilla extract
Directions
Mix all of the ingredients in stovetop pot over medium heat.
Bring to a soft boil for 5 minutes.
Cool in the refrigerator before drizzling on your luscious bread pudding.