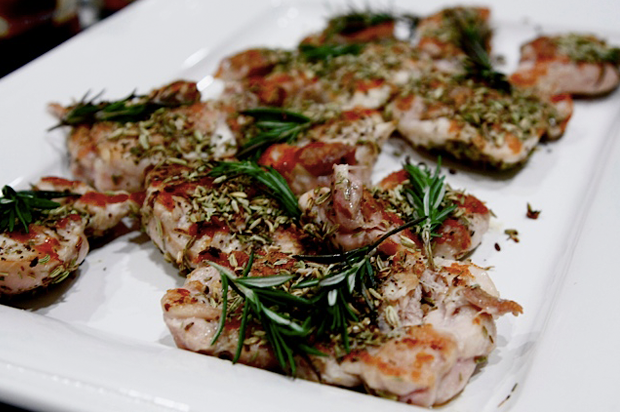 Spiel
This is so easy to make I feel almost guilty serving it to guests, but everyone absolutely loves it and can't get enough. On my end, all I have to do is grill some chicken and add some herbs and salt and voilà. But there are a few "behind the scenes" tricks to making this chicken so delicious, which I will of course share with you.
First of all, chicken thighs. Yes, chicken thighs. Not breasts. White meat chicken is disgusting and I intend to prove it to you, just in case you've been brainwashed by the American Ashkenazi Dry-Rubbery-White-Meat-Chicken Society.
Second of all, nowhere outside of the United States, where people actually eat really good food on a regular daily basis, Europe, is white meat chicken served to guests or prized in any fashion. I remember years ago in Rome I roasted a chicken for myself and my boyfriend Federico. (Making lunch and dinner for a real live Italian will really teach you how to cook.) Anyway, as I was waiting for him to get to the table I cut the chicken in pieces and gave a thigh, with leg attached, to Back, Federico's dog. (Back was his odd nickname; his birth name was Back to the Scene of the Crime.)
Federico nearly lost his temper which he rarely if ever did. Hands were flying in the air attempting to gesticulate words that could not come out of his mouth fast enough. "You gave the thigh to the dog? You gave the thigh to the dog? You don't give the thigh to the dog. La coscia(the thigh pronounced cosha) e` la parte piu buona. La coscia, la coscia, I can't believe it,la coscia," he kept repeating.
Jesus Christ. What did I know? I grew up in an all Jewish neighborhood where everyone went on expensive vacations just to eat dry white meat chicken in a change of scenery. That night Federico got the remaining thigh but the next time I made roasted chicken  I made sure to try a thigh myself and from that moment on I have been a hard core convert.
For those Jews out there thinking that eating dark meat chicken is so goyeshe, Mom, I would like to offer you a convincing piece of evidence that it is not.  Shloma Basmat.
I met Shloma in LA though Daphna, another Israeli friend. Shloma worked in the catering business and all the Israelis in LA that I knew raved about Shloma's cooking.
I love to cook too, I offered with innocent enthusiasm when I met her.
Oh yes? she replied with that Israeli look in her eye that says, I just met you so I can only assume you are full of shit.
Yes, I love to cook. I lived for years in Italy, which for me is an accolade worthy of knighthood, only second to actually being Italian in terms of knowing good food and how to cook it properly.
I wasn't scared of her Israeli attitude. Actually I was but I pretended not to be. I even bragged about a certain marinade I invented for grilled chicken.
So let me ask you, she questioned me, when you make this chicken (and she emphasized this chicken as if she has already tasted it and it was disgusting) what kind of chicken do you use?
Oh shit, I thought to myself. Another Jew, she's going to like white meat. But I stood my ground.Thighs, I responded. Only thighs.
And there it was, the Israeli glare of I am better than you are was lifted and a smile overcame her pretty face. We should cook together sometime, she said. Shloma came to my house with a bag of groceries and a bottle of prosecco and we cooked, ate and drank all day. It became a regular tradition until Shloma moved back to Israel to open a restaurant on the moshav she grew up on. I look forward to sharing some of the recipes she shared with me. This, however, is not one of them. This is mine and you can tell because it's so easy to make; it really flatters my laziness.
Besides thighs, the other tricks that makes this chicken so amazing is the sprinkled salt on each piece. (The secret to Italian cooking is olive oil and salt. If you don't use salt, your food will not taste good. Period.) Also, we are giving our herbs de Provence an extra kick of fennel. It's a perfect combination.
MORE RECIPIES OF THIS TYPE: chicken, dude food, gluten-free, mains, recipes, stuff even a shlemazel can make
Meal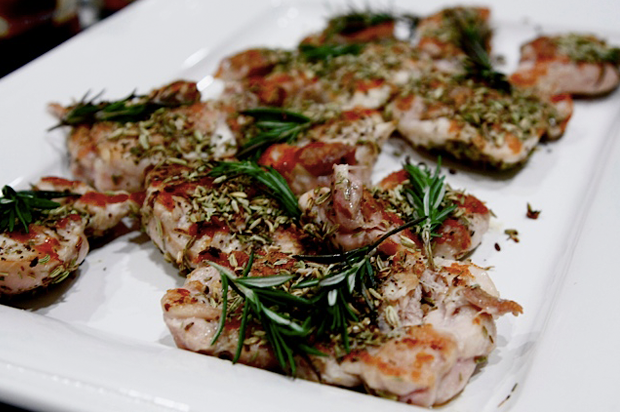 Ingredients:
Vigor Trigger: Click the pink for health benefits!
chicken thighs, boneless, skinless, antibiotic and hormone free, about two per person, at room temperature
kosher salt
herbs de Provence, about a ½ teaspoon per piece of chicken
fennel seeds – about ½ teaspoon per piece of chicken
fresh rosemary sprigs, cut into 1 or 2 inch pieces that can fit on top of each piece of chicken (optional)
Directions:
Light a grill pan* on medium high and let it get very hot for about 10 minutes.
In a little bowl, mix the herbs de Provence and fennel seed in a 1:1 ratio. Don't worry about measuring. Just eyeball it. If you need more as you go along, you'll make it.
Place chicken thighs on grill and then with your fingers carefully sprinkle a good dose of herbs de Provence to mostly cover the side facing up.
Then sprinkle some salt with your fingers  on each piece and place a piece of the rosemary branch to rest on top of each chicken piece.
After 6-8 minutes, remove rosemary and set aside, flip chicken, sprinkle herbs and salt the other side and replace rosemary.
Cook for another 6-8 minutes until done.
The thighs will take about 6-8 minutes per side if they start at room temperature. I strongly recommend throwing an extra piece on there to use as your guinea pig so you can cut it open and check for done-ness. Chicken thighs don't dry out easily so its ok to leave them on for a few extra minutes to be sure.
Serve hot or at room temperature.
*Shop for this item here.