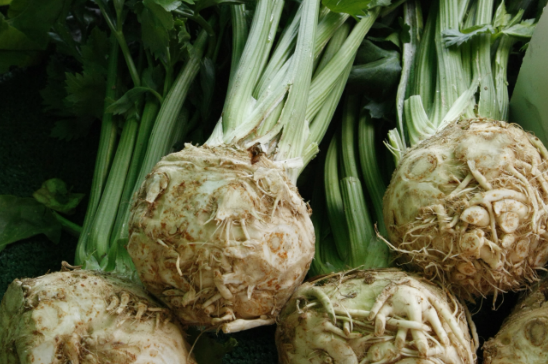 Spiel
This is one of those dishes that makes people think I am a lofty, well trained gourmet chef. The celery root gives a distinct flavor to this purée that most only encounter in finer restaurants. They convince themselves that I must have some chef secret up my sleeve that their taste buds have the unique fortune to be privy to. I don't do half the stuff chef's do, one, because I don't know how and two, because I can't be bothered. This celery root purée requires no training, no immaculate rule following, no haute cuisine ingredients.
The celery root itself looks like a rather ugly and bumpy vegetable which is why I speculate few incorporate it into their home repertoire. But mark my words, when available in the winter months, celery root is delicious and easy to use.
There is a secret though to this purée. The three main ingredients – celery root, potato and onion – hang out and get to know each other really well while cooking first in water (or in the delights of a pot of homemade Basic and not So Basic Chicken Broth or if you are making Thanksgiving, then in The Batch of Broth that Keeps Giving and Giving.) By the time they are puréed together, their flavors are already orchestrated and waiting to be tuned to perfection with a little olive oil, butter and salt. Once puréed and baked again in the oven, the highest level of harmony between these root veggies has been achieved. What you will taste is not reminiscent of a restaurant chef. What you will taste is the heart of homemade. And trust me, it is easy.
MORE RECIPIES OF THIS TYPE: food blog, gluten-free, recipes, salads & sides
Meal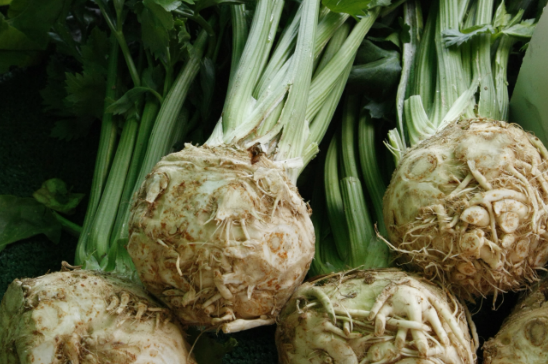 Ingredients:
Vigor Trigger: Click the pink for health benefits!
for 6-10 as a side dish
(If you are serving for more, double or triple the quantity by boiling more celery root, onion and potato in the first place.)
One large celery root or two smaller ones, peeled with a knife and cut in thirds
One or two unpeeled russet potatoes (depending on how many people you want to feed)
One onion, peeled, don't cut (save the skin)
¼ cup extra virgin olive oil
⅓ stick of butter or the equivalent of olive oil
generous salt to taste – a generous teaspoon I would say
freshly ground pepper
---
Directions:
Preheat oven to 350°F.
If you are not making a batch of broth (see intro) then, bring a small pot of water to a boil. (If you are making broth, then you will add these ingredients into the broth and then remove them when soft and proceed with recipe.) Add the celery root, potato, onion, and onion skin (the skin adds flavor.) Cook until vegetables are soft, about 45 min, and remove. (If you have them, you can also boil some carrots, a bay leaf and a chicken bone with your vegetables to add extra flavor to them as they cook.)
Put all ingredients, perhaps in two batches if not enough room, in the food processor and pulse until very smooth.
Spread out in ceramic or glass baking dish, 8×8".
Cover with aluminum foil.
Bake for around 30 minutes or until very hot.
You can re-bake the leftovers the next day in the same way.
Cook's Notes:
1. Feel free to experiment by adding other root vegetables to the mix. Throw a turnip or a parsnip or even a carrot into the mix for variation.
2. Feel free to cook the celery root, potatoes and onion in Basic and Not So Basic Chicken Broth for a richer outcome.