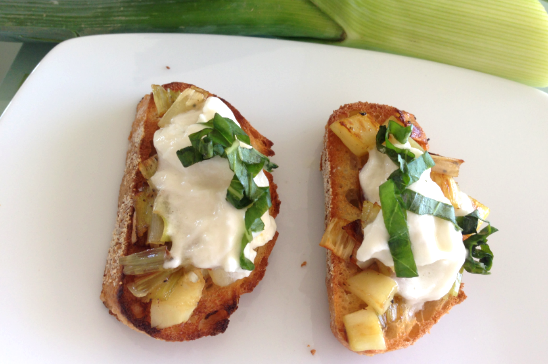 Spiel
Meal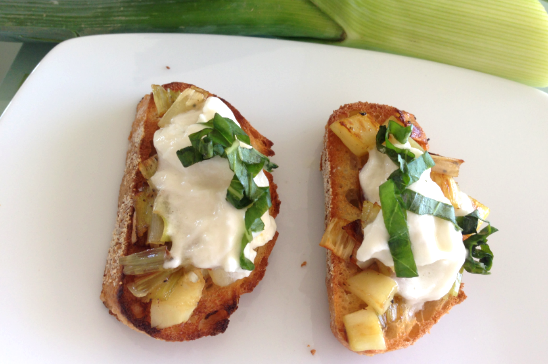 Ingredients:
Vigor Trigger: Click the pink for health benefits!
1 generous tablespoon olive oil, plus more for drizzling
3 large leeks
½ cup chicken broth, preferably homemade (see recipe for Basic and Not So Basic Chicken Broth) or organic boxed broth
½ -1 teaspoon raw honey (yes raw is important for the flavor!)
8 oz good quality burrata, at room temperature
a small bunch of basil, cut into strips
1 French baguette
salt and pepper
Place an oven rack on second rung to the top and light  your broiler.
Cut bread into ½ inch slices and place on a cookie sheet.
Place burrata on a plate and slice it into ¼ inch slices. (It will get messy. Not a problem!!) Sprinkle salt generously (about a ½ teaspoon) on the cheese.
Cut basil into thin slices. (Place a few leaves on top of each other, roll them up into a little green "cigarette" and use a knife or scissors to cut them into thin slices.)
Place a pan over medium high heat.
Remove outer two layers of leeks. Rinse and dry them.
Cut the white and light green part of leeks into ⅓ inch slices, and then cut those slices into quarters.
Add a tablespoon of olive oil pan and then add the leeks. Stir.
Let the leeks saute until soft, about 5 minutes. Careful not to let them burn.
Add the chicken broth, sprinkle with a dash of salt (it will depend on how salty your broth is) and give about 20-30 grinds of the pepper mill.
Continue to cook until all of the liquid has evaporated and the leeks are beginning to take on a golden color. Remove from heat.
Add the honey and mix to stir well. Begin with a ½ teaspoon and if you like it sweeter add a bit more.
Toast bread by setting it under the broiler for about a minute, until golden. Turn slices over and toast the other side. Be careful not to let bread burn.
Spread a thin layer of the leeks on a piece of bread, top with a slice of burrata. Drizzle a little olive oil- optional. Garnish with 4-5 slices of basil. Continue with the rest of the bread. Serve immediately.
To make ahead of time:  prepare the leeks (steps 6-11) and bring the burrata to room temp before you begin to toast the bread and assemble the crostini.