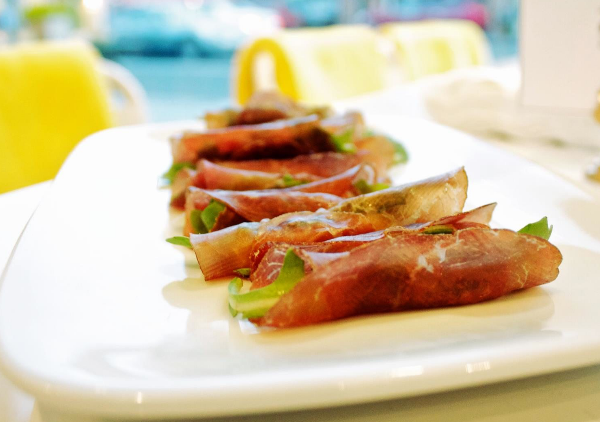 Spiel
I had a killer sandwich routine during my years living in Rome. These bites are the inside of my perfect sandwich and make delicious appetizers. They involve no cooking which means that even a "shlamazel" could make them.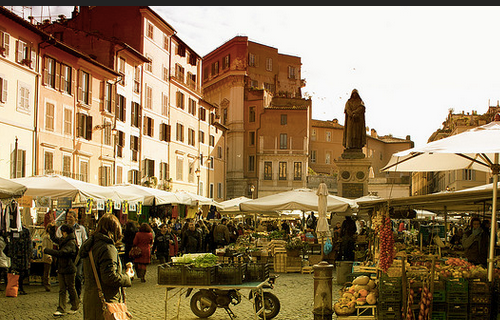 Here is the routine for you to follow next time you are in Rome. Around noon (and not a minute after 1pm, as everything shuts down) battle the crowds and buy a  warm piece of focaccia from the bread bakery " Il forno" on the far corner of the Piazza Campo di Fiori.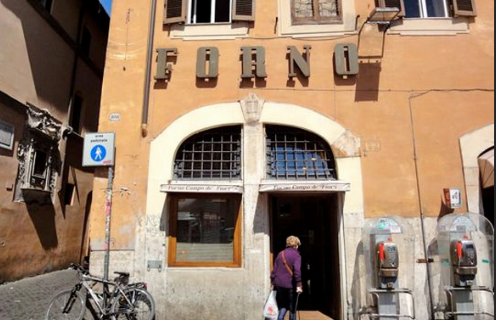 If you don't speak Italian  you better know how to be a little pushy or I am not sure you will ever get served in there. If don't know how to be pushy, I don't even know what to say. How do you even live??
Ask for "un pezzo di pizza bianca." The guy will show you with his knife how much he wants to cut off from the huge white pizzas.  (Focaccia in Rome is called white pizza. ) He will try to sell you more than you need. Use your hands to show the size you want and don't get guilted by his stern face if you are asking for a small piece. This man will not smile.
Once the prized bread is attained, bring it over to the old lady at the cheese and charcuterie cart in the middle of the piazza.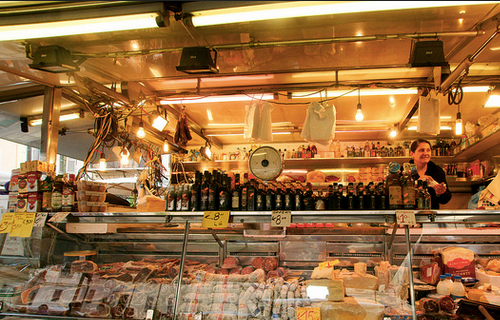 Even though I haven't been in four years, I can guarantee she is alive, thriving and still working that cart. This woman has the kind of chutzpah that keeps you alive until 100. One time, my visiting American friend Derek ordered a prosciutto and cheese sandwich and asked her to put olive oil on it. She nearly ran him out the piazza with a tirade on why olive oil had no place in that sandwich. I don't remember the details to be honest, there was already enough fat from the prosciutto and cheese, I imagine. In any case, her passionate "spiel" carved a lifetime of reverence and affection in me for her. Signora, that's what I call her. And that's what you should call her. She has no other name.
"Signora," you say, and make a slicing motion to show her you want the focaccia sliced in half. "Un panino, per favore." You won't even need to ask, she'll know you want a sandwich. After she utters something totally incomprehensible, assume she asked you what you want in your sandwich.
You say, "Bresaola e una cacciota (cach-ota) semi-stagionato."
You will be asking for a semi-aged sheep's milk cheese  to go with your bresaola. She'll handle the rest. Just get ready to pay and once you do, take your sandwich to the statue steps in the center of the piazza and sit. Before you take your first bite, look up at the ominous face on the statue and give it a nod. That is the face of Giordano Bruno, who was burnt at the stake for heresy four hundred years ago exactly where you are about to eat.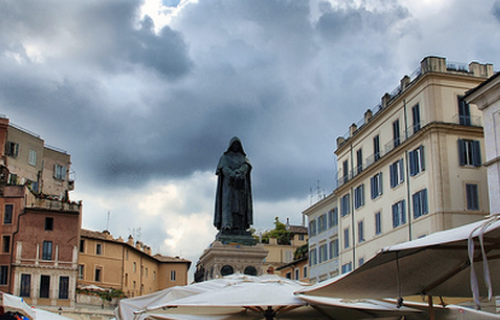 Always good to acknowledge the dead in Rome. There are a lot of them, and connecting with the dead means connecting with history. Enjoy your delicious sandwich and the freedom to have been born in a country that allows you to openly tell its government to go fuck itself when needed.
The arugula is a common addition to a sandwich of this nature, at least in Rome.
Buon Appetito.
MORE RECIPIES OF THIS TYPE: appetizers, dude food, food blog, gluten-free, Ingredient, italian, recipes, stuff even a shlemazel can make
Meal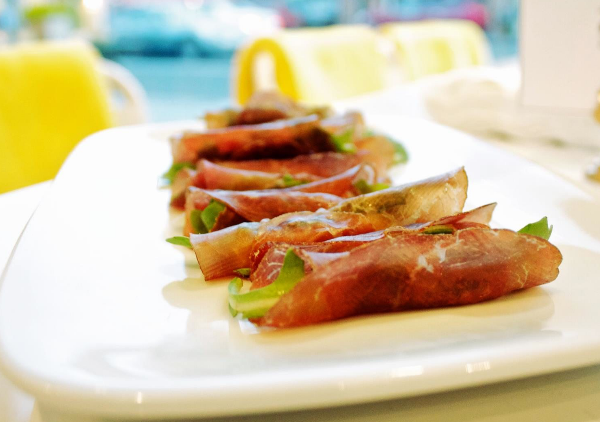 Ingredients:

Vigor Trigger: Click the pink for health benefits!
Bresaola or Mocetta, sliced thin
Sheep's milk cheese– Manchego or other  cheeses I have found at Trader Joe's work too…as long as they are  made from Sheep Milk.
Arugula– wild variety
Directions:
Cut cheese into ¼ inch thick matchsticks.
Put on the short end piece of the bresaola.
Add a couple pieces of arugula.
Roll up. Press down on the closing flap to keep it "glued" together.
Stack on top of each other on a wooden chopping block or simple plate to serve.
Watch them disappear.