7 secrets to the best latkes?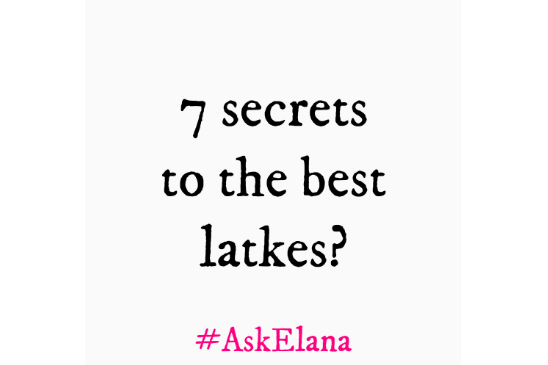 You don't start cooking school called Meal and a Spiel if you can't make a mean latke. It is my pleasure to share my secret, or rather my secrets, with you.
1. Only use enough flour (I use potato flour) and egg to just hold the latkes together. Otherwise your latkes will be dough-y and hence more bland. You want them crispy and flavorful and the flour will get in the way of that.
2. Add leeks to your latkes to give them a more nuanced and sophisticated onion flavor. Leeks will make your latkes worthy of a Michelin Star.
3. Grate your potatoes by hand. I know, it's a pain in the tuchus, but how often are you making latkes?! The texture will be better.
4. Don't form your latkes into perfect circles. You want bits of potato shreds to stick out as these will get super crispy and add potato-chip-like texture.
5. Make sure your pan is very hot before you get started. Let it heat on medium/medium high for 7 minutes before even adding the oil.
6. Fry them in abundant extra virgin olive oil. Olive oil is the oil from the miracle of Hanukkah, and aside from that, olive oil will give your latkes the best flavor.
7. Serve your latkes right out of the pan. (After letting them rest for a quick minute on a paper towel and sprinkling them with salt.) Since you don't want to keep frying them during dinner, try them as appetizers as I do. Invite everyone in the kitchen to help and fry up latkes and eat them with your cocktails. Then be done with them and sit down to your main course.
Here is the link to my latke recipe. Go crazy!
Another recipes that you might want: 3 Ingredient Roasted Apple Sauce
TAGS: #askelana, appetizer, Ask Elana, chanukkah, cookingtips, gluten-free, glutenfree, Hanukkah, latke, latkes, leek, leeks, olive oil, potato pancakes, potatoes, wednesdaywisdom