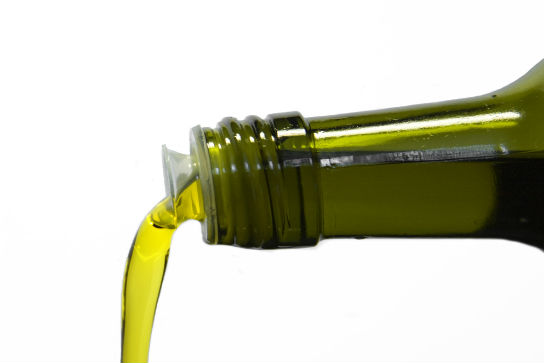 Wanna know the rules for choosing a good olive oil? Click here.
Staple Olive Oils  Extra Virgin Olive Oil is the basis for any healthy and delicious Mediterranean type diet. I use it for everything! You don't want to spend a fortune on it, but you also want it to be of high quality so your food will taste good. $12-$14 is a good range. I like to choose a cooking olive oil that is also good enough for drizzling, meaning I choose olive oils that have pronounced aromas and flavors.
1. Costco Tuscan
Verified of Tuscan origin. I go through tons of it in cooking classes and for myself. Less than $12 a bottle. If you are a CostCo member, stock up!
2. Veroli fruttato
Another great staple olive oil. I find it at Whole Foods. They have a delicato type as well, but this fruttato, fruity, has a more robust flavor, which adds goodness to your cooking.
3. California Olive Ranch:
I am impressed with their production. This olive oil is in many supermarkets and yet has a flavor of a more select brand.
4. Trader Joe's Organic Olive Oil or Trader Joe's California Olive Oil

Good aroma and flavor. When I go to TJ's for my Trader Joe's to the Rescue Cooking Class, I choose one of these.
 5. 365 Organic Arbequina Olive Oil
Whole Foods has started carrying single variety olive oils. What this means is that only one type of olive is being used. Just like a wine that has a single varietal grape, this olive oil has a more specialized production, which to me says care, love and flavor.
Drizzling Oils  It's a treat to have some really high quality olive oil on hand to drizzle atop pasta, soups, bruschetta and crostini, etc.  It makes all the difference in the world, and this is one of the main reasons Italian food tastes so good. These unique olive oils make wonderful gifts.
6. Ancient Olive Trees
This is a special treat for drizzling. I love that such good oil comes from California. You can feel the love that is used to grow, produce and package this exquisite and reasonably price olive oil. The opaque white bottle, not only protects the oil from light, it has the presentation of a beautiful and thoughtful gift.
7. Tenuta del Numerouno
I love that this oil comes in a wine bottle with a real cork. It delivers the goodness of Tuscan extra virgin.
TAGS: cooking, extra virgin olive oil, Italian, olive oil