7 Make Ahead Recipes for a Perfect Summer Cocktail Party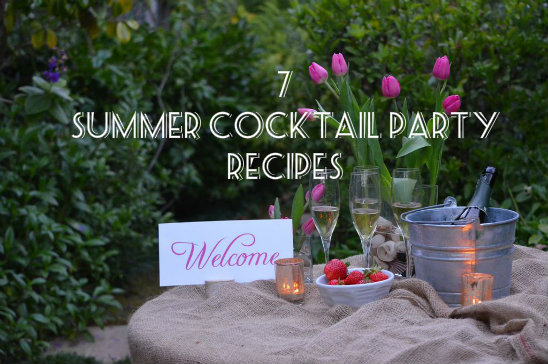 So many of my cooking students are terrified to have anyone over to eat. But that is the point of cooking. To share.
Being able to throw a party, enjoy oneself at the same time, and serve food that your guests will love is a common fear. "What if there is a vegetarian? What do I do now that so many people are going gluten-free? How can I be sure to not to be so concentrated on preparing the food that I can't connect with my guests? What if people judge my cooking?"
Here is an easy strategy for a fabulous summer party that can be prepared in advance so you have time to take a nap, get dressed and be fabulous once the first doorbell rings. These recipes are healthy and varied in nature so everyone from the vegans to the carnivores to the gluten-free have something to eat. Furthermore, they are easy and approachable so your party experience is not just stress free, but celebratory.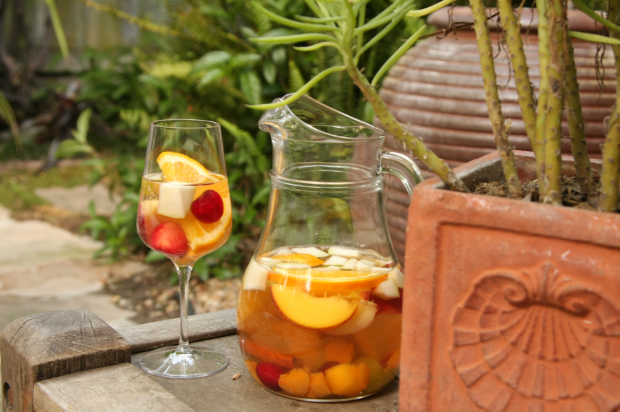 White Summer Sangria with Summer Fruit
(Gluten-Free, No Added Sugar)
This sangria is perfect because it uses Moscato d'Asti, a favorite light bubbly Italian dessert wine, mixed with a dry rosé to create a crisp blend of wines that is just sweet enough and just strong enough. The color of the mixture reflects the sun rays of summer and once the fruit is added, you will be serving a work of art created from the greatest delights our earth provides us.
As is true when preparing most dishes, let God do the work. Just add the fruit to the wines and step back to let the quality of the ingredients radiate their innate goodness.
chilled Moscato d'Asti
chilled rosé wine or a dry young white like Vinho Verde
fruit and fresh herbs: choose any or all
Make Ahead Tips: The longer the sangria sits the more the fruit will macerate and leave it's flavor. That said, the longer it sits the less you sense the bubbles from the moscato. Try starting with the Vinho Verde as the catalyst to pull out the fruit juice and then adding the moscato before serving.
Don't throw out the fruit when all the wine is done!
Here are a few ideas for it:
Place it in a bowl with lemon sorbet on top, garnished with fresh mint.

Put it in a pan, add another "glug" of Moscato if you have, cover and cook over medium low heat for 45 minutes. Serve à la mode.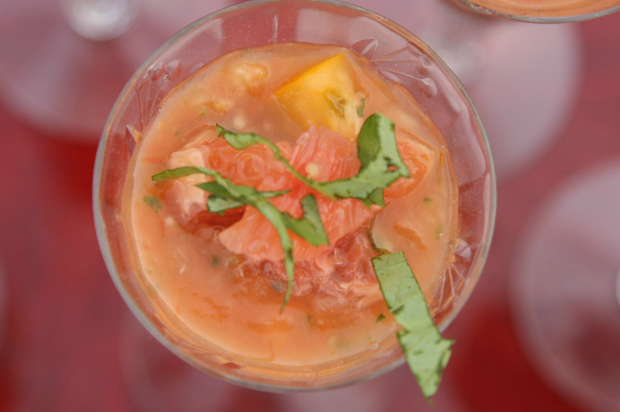 Heirloom Tomato Gazpacho with Grapefruit and Basil
(Gluten-Free, Vegan, Vegetarian, Dairy-Free)
One, I consulted the Spaniards for specific recipe ideas. I learned to use sherry vinegar which is delicate and adds only a mild zing. Two, I omitted the use of bell pepper which would overpower the flavor of the sublime heirlooms and would also make this summer soup hard to digest. Three, I decided to purée half and finely chop the other half of the ingredients (done in a cuisinart) to create the perfect smooth and crunchy texture. Four, I called for the yellow tomato to be chopped by hand so it can add a gorgeous bright color to the soup. And five, the idea to  garnish with grapefruit and basil could almost make me a genius.  I mean it does make me a genius.
red or reddish-brown ripe heirloom tomatoes
yellow ripe heirloom tomato
English cucumber
red onion
sherry vinegar
kosher salt
grapefruit
Make Ahead Tips: This recipe can be made early in the day before the party. It is best if not put in the fridge as the cold does affect the sweetness of the tomatoes.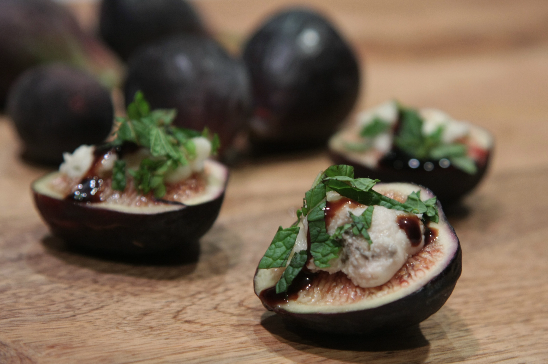 (Gluten-Free, Vegetarian)
The fig tree is the original lifesource of the Garden of Eden. The fig must be dressed delicately and served with the intention to awaken the sublime and the sensual. Here is a recipe that does just that.
Figs
Soft, un-aged Gorgonzola…or your favorite soft blue cheese
Balsamic Reduction (Try: Tesoro di Modena Organic Balsamic Creme, available at Whole Foods or online)
Make Ahead Tips: These can be made ahead of time the day of the party. The sweetness of the figs will be tasted if they never touch the fridge. And as always, cheese should also be served at room temp, so keep them out!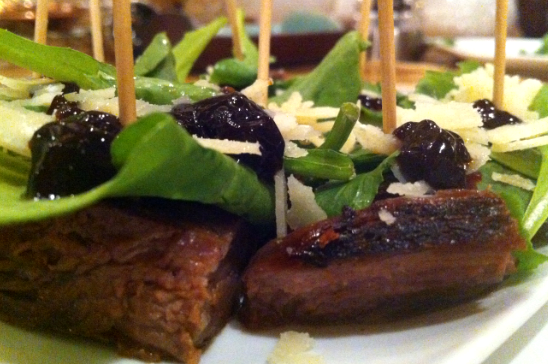 Grilled Steak Bites with Arugula and Parmigiano
(Gluten-Free, Carnivore)
Based on one of my favorite typical trattoria recipes in Rome, you will find that red meat, the spicy bite of raw arugula and Parmigiano Reggiano were made to be eaten together.
flank steak
salt
freshly ground pepper

Make Ahead Tips: This recipe can be made early in the day before the party at room temperature.
Elana's Secret Marinade Chicken Skewers
(Gluten-Free, Dairy-Free, Carnivore)
I made it on our third date and with every piece of chicken that disappeared into his mouth, I watched his heart open up for me. Subsequently, every time I managed to upset him with some annoying idiosyncrasy of mine, I was sure to whip these up to regain his affections.
chicken thighs
honey
red wine
garlic
rosemary
tomato
shallot
extra virgin olive oil
sesame seeds
balsamic glaze/reduction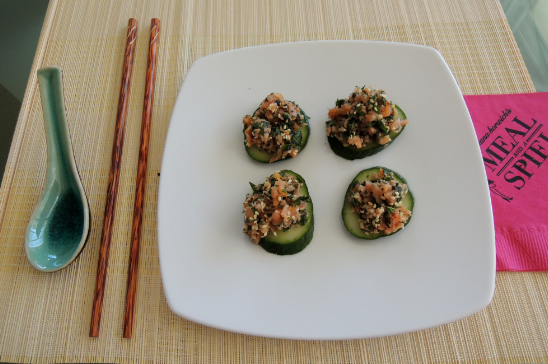 Smoked Salmon Tartar on Cucumber
(Gluten-Free, Pescatarian, Dairy-Free)
The combination of the lemon and mint, tempered by the toasted sesame seeds works perfectly with smoked salmon.
Make Ahead Tips: Steps 1 and 2 can be done ahead of time, even a day in advance. Cover with plastic wrap and place in fridge until ready to use. Bring to room temp before serving.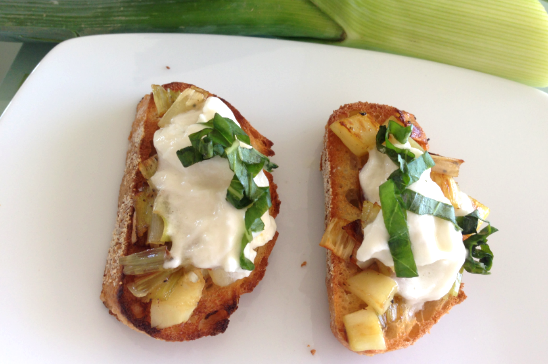 Burrata Crostini with Honeyed Leeks and Basil
(Vegetarian, Bread and Cheese Lovers)
Sex on bread.
To make ahead of time:  prepare the leeks (steps 6-11) and bring the burrata to room temp before you begin to toast the bread and assemble the crostini.
TAGS: appetizers, burrata, cocktail party, crostini, dairy-free, dairyfree, entertaining, figs, gazpacho, gluten-free, glutenfree, gorgonzola, heirloom tomato, honey, leeks, make ahead, raw, salmon, sangria, steak, Tomato, vegetarian