5 Essential Dinner Party Decoration Tips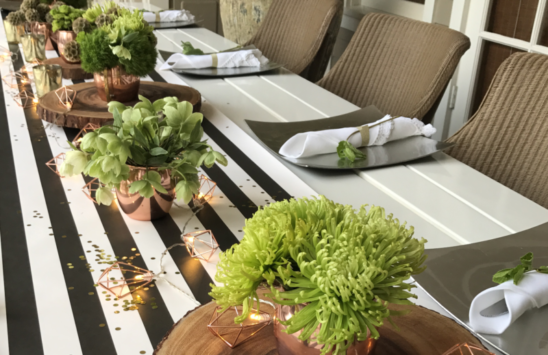 At our Farm to Table Dinner Party class last week, our stylist Sheera taught decoration tips to our guests so that they could create their own beautiful tables. These are her secrets and the products she swears by.
1. Always have a fun decor theme. Our theme: Mixing Metals IS CHIC!
I thought this was a fun concept because I find that clients always think that mixing metals is a faux-paux, which in reality it is not. It is very chic. Decor and style are all about balance, and what matters is that the pieces look like they belong together aesthetically, and they have to look intentional.
2. Match your table.
There are two ways to do this, simply speaking. The first is to use the same color story throughout. The second is to use mismatched colors and to "make a story" of the styles and sizes. This is what we did for Farm to Table. Since we used three different metals (copper, gold, and silver), I used equal parts copper and gold. And notice (in the photo below) that the votives and copper mugs are relatively the same size. Since the silver charger plates were large, I didn't add any more silver, except the silverware. And the story was further sewn together because we matched the size of the chargers and the wood rounds. Make sense?
3. Florals are a must. Why I went with all "Green & Earthy" Tones:
I chose to do all Green Florals to tone down the metals. With the metals being all different I thought the consistency and tonality of the green would be the best compliment and the most refreshing. I added the wood risers to give different heights to the table and to add another earthy element and texture. But make sure you don't elevate too high! With floral arrangements it is always nice to keep it below eye level so you can socialize with your guests.
I always love to do a little touch of greenery on the napkin because I think it subconsciously sends a signal to guests that what they are about to eat is fresh and delicious! I chose mint because I thought it was fun to pair it back to the mule mugs. Other options I love for the napkins: Rosemary, Lavender, Baby's Breath.
4. Table Runner: PAPER!
I love using a Paper Table Runner. It doesn't require washing and it's unexpected. They are great for using both indoors or outdoors, on top of a tablecloth or on a bare table. I love the black and white stripes because it played a stark contrast with the metals. (I would not have used stripes in any other color combo). On top of the runner: I added gold confetti to create sparkle by reflecting light from the candles.
Others schemes I've used with that exact striped runner are wood boards with pink and orange poppies for a spring flair, and silver and mirrored elements with any monochromatic color scheme for a more formal setting.
5. Lighting: Candles and more…
Always use lots of candles. But don't stop there. I chose the copper geometric string lights because I like how they are "open-aired" as opposed to the enclosed copper mugs and gold votives. It's another way to add light and they are fun on the table. Again, they are unexpected.
Let me know at sheera@mealandaspiel.com if you have any questions, and if you would like us to style and cater your next event!
XO
Sheera
_________________________________________________________________________________________
What we used on our table:
1 Acacia Wedge Server from Crate&Barrel | 2 Silver Charger Plates from Balsa Circle | 3 Geometric Copper Lights from Paper Source | 4 Gold Candle Votives from Z Gallerie | 5 Copper Mule Cups from Sur la Table | 6 Flowers from Flowers Wholesale | 7 Gold Confetti from Paper Source | 8 Black and White Paper Table Runner from Paper Source | 9 Gold Glitter Tape from Paper Source | 10 Scalloped Napkins from Pottery Barn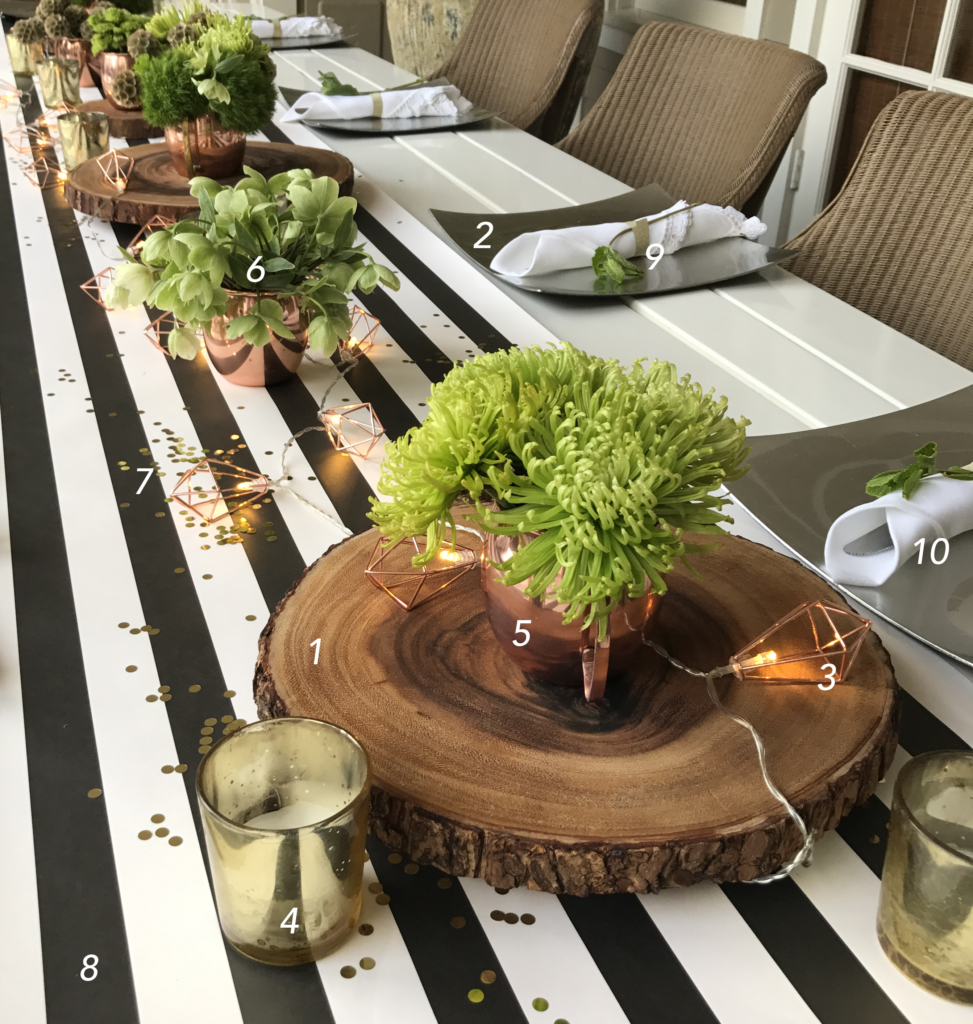 TAGS: