spiel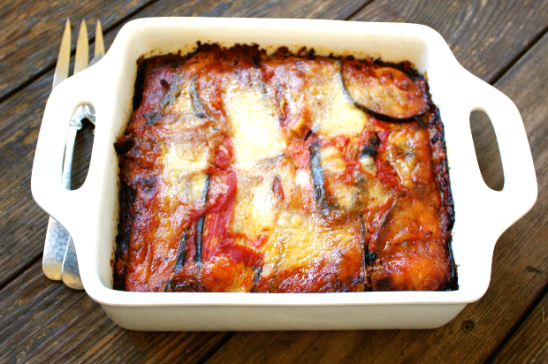 This dish is named after Roberto Benabib, writer and producer of WEEDS. He and his wife Samantha, a college friend of mine, were my first daring clients. I delivered food twice a week to their love-filled home after the delivery of their baby Carolina. We had an initial consultation in which they got to tell me all that they liked to eat, and more importantly what they didn't like to eat.
Note to the unassuming: when preparing food for this kind of job, you need to think of foods that reheat well and are still just as good after the second time on the stove or in the oven.
Basically everything that I had in mind was exactly what they would not eat. Believe it or not, this was a blessing. It was an opportunity for me to work on new kinds of recipes. I set to work in my kitchen testing out turkey meatballs that never touched a hot oiled skillet, salmon crisped in the oven and then cooked in a puttanesca sauce, and ultimately this baked-not-fried eggplant parmigiana.
Now let me be very clear: I never liked eggplant parmigiana. I found it too heavy. It has even made me feel nauseous at times. (Of course no Italian can believe this; they all tell me I have never eaten a proper one. I think I just don't like fried foods with sauce and cheese.)
I am not sure how I came up with the idea to make Roberto and Samantha a baked eggplant parmigiana, but I am pretty sure that as a perennially disappointed connoisseur of the stuff, I was the right person to work on an eggplant parm that would be both light and delicious. I figured that the eggplant slices could be lightly breaded and could be baked instead of fried easily enough. I imagined them with a sweet-ish, tangy-ish tomato basil sauce, parmigiano reggiano and then mozzarella only on the top layer, as to not weigh the whole thing down with melted cheese. It worked, with fireworks on top. This became Roberto's favorite dish and we made sure there was one waiting for him each week.
So anyway, dear Roberto, this one is for you...
Ingredients:
Vigor Trigger: Click the pink for health benefits!
serves 4 hungry people, recipe can easily be doubled
*Note: it is imperative that you use parmigiano reggiano, the imported Italian cheese available at specialty shops, Whole Foods, Trader Joes, and even Costco. If you use parmesan, you are opting for a cheap American version of the real thing...and since this recipe has so few ingredients, the quality of the cheese is paramount to its success. (Watch video: Meal and a Spiel on Parmigiano Reggiano)
Directions:
Preheat oven to 400°F. Line 2 baking sheets with parchment paper.
This is my easy way to cut the eggplant: cut off the green top of the eggplant. Cut the eggplant in half horizontally so you can have each half stand easily upright on your cutting board. Now, seeing the eggplant as a square, go ahead and cut off the skin on two opposite sides so you will have an eggplant that has skin on two sides and not on the other two. Starting on a naked side, with eggplant standing upright, slice it into 1/3 - 1/2 inch slices, each will have skin on the sides. Continue with the rest.
Lightly beat the eggs in a shallow bowl.
Put the panko in another shallow bowl.
One by one dip each slice of eggplant in the eggs to cover and then dip in the panko to cover and place on the baking sheet.
Bake for 12 minutes. Some pieces will be mushier or less cooked than others. This is ok. Let eggplant cool.
In the baking dish, lightly cover the bottom with tomato sauce. Layer with eggplant, followed by another light layer of sauce, followed by a generous sprinkling of parmigiano. (Trick: I use a Le Creuset rubber kitchen brush to paint the tomato sauce into every crevice. You can shop for this item here.)
Continue until you have three layers of eggplant, making sure you finish with tomato sauce and then parmigiano.
Cut the mozzarella in slices or shred with your hands and place on the top.
Bake uncovered for 35-40 minutes or until very bubbly.